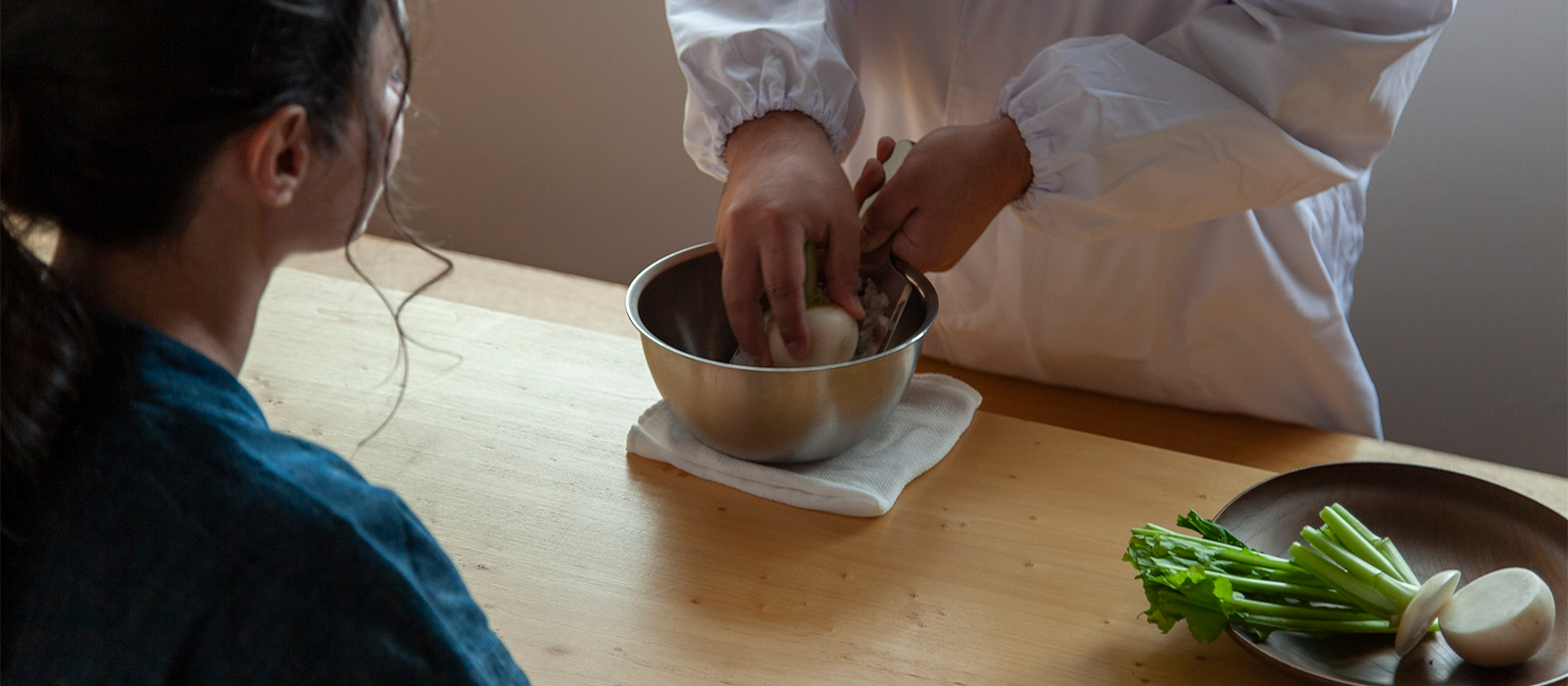 Shojin ryori and the scent experience: mindful eating
In the busy modern life consciously eating with all senses and feeling the seasonality are often neglected.
At the ocean view counter with a professional chef, calm down and relax while experiencing the natural scent of vegetables and fruits.
In this experience we want you to enjoy shojin ryori and use your mind and body to rediscover the enjoyment of mindfulness eating.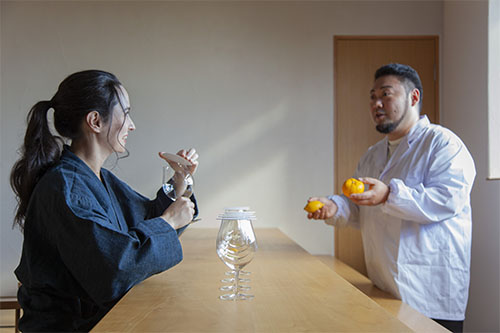 the master
Riichi Noguchi (野口利一) CEO of Gohan Create Ltd.
Chiba Prefecture Industrial Education Council member, restaurant manager and creator based in Kisarazu. He provides consulting services for accommodation facilities and restaurants nationwide. In particular, he is focusing on the education of the future chefs and the dietary education of children.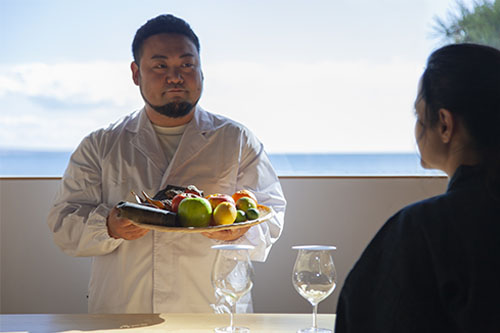 the place
modern ryokan kishi–ke
The word ryokan consists of two characters – one meaning 'travel' and the second meaning 'building, house'. Even for several hours we want kishi–ke to become your house, luxury home during your travel. A place where you can feel Japanese spirit and culture and spend a great time, making wonderful memories and savoring the life of local.
Just one group up to 4 people at once.
For people who want something different.
Learn more here: https://kishi-ke.co.jp/stay/
1-day visitors
¥
240 000
/

group up to 5 people
accommodation not included

English interpreter: 15,000 yen
kishi-ke guests
English interpreter: 15,000 yen
program:
-Prepare your mind
Calm your mind and body with a scent made from charcoal-boiled kettle water.
-Touch the ingredients
See and touch the pre-cooked ingredients used in the provided shojin ryori.
-Take the scent
Experience the scent of fruits, vegetables, dried foods, etc.
-Chef cooking demonstration
Using the ingredients used, the chef will prepare a special dish in front of you for the experimental tasting
-kishi-ke's shojin ryori experience
The visitors and ryokan's guests' lunch will be served with various Japanese tea pairings. The ryokan's guests will also have a shojin ryori breakfast.
important:
We recommend you to book 1 month in advance to make sure the Masters are available
The booking will be completed after we confirm the Masters
​
We are located in Sakanoshita, Kamakura
Free pick-up available from the airport, hotel located in the Tokyo, Yokohama area
Narita International Airport – approximately 120 min
Haneda International Airport -approximately 60 min
The nearest train station – Hase – 5 min walk
Address
21-5 Sakanoshita
248-0021 Kamakura
Kanagawa, Japan